Epoxy Pool Paint – Pool Resurfacing and Pool Repair Products
AquaGuard 5000® for Residential and Commercial Swimming Pool Resurfacing, Refinishing and Repair
For over 40 years Aquatic Technology Group, LLC under the AquaGuard brand has created the number one rated epoxy pool paint – AquaGuard  5000®. AquaGuard pool resurfacing and refinishing products are for commercial and residential pool owners.  Top quality AquaGuard products are available through pool stores, pool contractors, and online at our store  for the Do It Yourself homeowner.  If you are resurfacing or refinishing your pool, spa, or hot tub ask for AquaGuard  5000®. AquaGuard 5000® is used to refinish fiberglass, concrete, plaster, block and steel swimming pools. Our products have been used to refinish all types of pools and spas, for both residential and commercial use. AquaGuard has restored pools for the Navy Seals, YMCAs, colleges, schools, resorts and thousands of homeowners nationwide.
Summer Special! 
Free Bottle of AquaGuard Fiberglass Pool & Spa Cleaner with every order of AquaGuard 5000 Top Coat !  Can also be used for cleaning tile.  

AquaGuard 5000 is the only pool coating that uses high-build technology and can be spray applied up to 60 mil thickness, whereas, typical pool paints are applied from 2-6 mil applications.
AQUAGUARD 5000®
EPOXY POOL PAINT – PRODUCT INFORMATION
Up to 15 Year Guarantee
AquaGuard 5000® pool refinishing product is guaranteed to last up to 15 years if applied by a sprayed application or 10 years for 3 coat rolled on application.
Lasting Smooth Finish
Creates a smooth non-porous, and non-abrasive surface. Reseals and smooths every pool and spa surface you apply it to.
Algae and Stain Resistant
Smooth and non-porous means algae resistant. Easy to clean without wire brushes and scrubbing. Restores your pool's prior beauty.
Environmentally Friendly
AquaGuard 5000® is a certified FDA compliant product to refinish and refurbish your pool or spa.
No More Leaks
Seals your pool with a tight, smooth, and solid waterproof application. Drastically reduces water loss.
High Performance Epoxy Coating
Formulated as a high-build system. Superior adhesion even to fiberglass.
Easy Application
One application when sprayed means less labor and higher quality for years of service.
No More Cracks
Creates a structurally strong waterproof barrier. Covers and prevents future surface cracks.
Colors will Not Fade
Cures old, faded, lackluster finish issues with refreshed new vivid color restoration.
Featured Product –  Pool Crack and Skimmer Repair Kits
Pool Crack Repair and Skimmer Crack Repair – Super Epoxy Injector System
AquaGuard Super Epoxy system is a self-leveling, non-sagging 2-part epoxy that is manufactured in 50 and 400 ml, 2:1 mix ratio tubes with Static Mixing Tips. This improves quality and reduces waste and materials needed.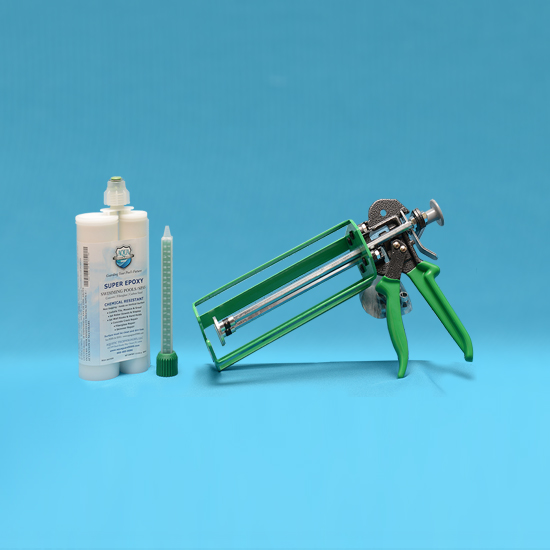 Quick and Easy Application Process
Easy and relatively quick to apply, all AquaGuard products come with step-by-step application instructions. You can also use our Contact Us form or call our product support hotline at 1-866-485-0086 and a trained representative will be happy to assist you.
Before and After Pictures        Testimonials
Interested in becoming an AquaGuard 5000® Dealer?
AquaGuard has over 1000 authorized partners and dealers throughout the US.
For more information about becoming a proud AquaGuard partner, find more information on our Become a Dealer Page, Contact Us or give us a call at 866-485-0086.
GALLERY
AquaGuard® 5000 Before and After Images